"The Miami cannibal attack occurred on May 26, 2012, when Rudy Eugene assaulted Ronald Poppo, a homeless man, on the MacArthur Causeway in Miami, Florida. During the 18-minute filmed encounter, Eugene (who was himself stripped nude) accused Poppo of stealing his Bible, beat him unconscious, removed Poppo's pants, and bit off most of Poppo's face above the beard, including his left eye, leaving him blind in both.[1] As a result of the incident's shocking nature and subsequent worldwide media coverage, Eugene came to be dubbed the "Miami Zombie" as well as the "Causeway Cannibal".[2] The attack ended when Eugene was fatally shot by a Miami police officer. "
My
co-producer
at the time and i were inspired enough to write a song about it and enlist the voices of
Starla Baker
ex-
Midnight Reign
and
Ave Rose 
to create "MIAMI"... It is described as
"Sounding Like Marylin Manson Getting Fucked in the ass By Pantera..."
I am featured on the track singing backround vocals as well as playing all bass,guitar and keys.  We had a lot of fun recording this track and it sounds like it.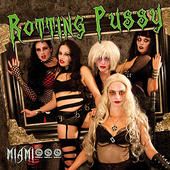 Listen Free on Spotify:

https://play.spotify.com/album/4yf1ChSBsuc2SKS1FLHbbK

Or Download Here:  https://itunes.apple.com/us/album/miami-single/id543410687