Progressive Rock Band Desert Dragon is set to embark on their first European Tour beginning September 15th in Lisbon Portugal.  Taking up guitar Duties on the European Run will be Ex-White Wizzard guitarist Will Wallner. The band line-up features Joseph Michael/Vocals, Greg Patnode/Guitar, Rick Brandt/Bass, Nick Mason/Drums, Alex Nasla/Keyboards and Will Wallner/guitar. 
      The band currently has a song featured in Both Classic Rock and Prog Rock magazine CD Samplers. The Track "Takin It Easy Now" was produced by Ralph Patlan (White Wizzard,Megadeth,MSG,Brian Head Welch) and can be listened to here: 
https://www.youtube.com/watch?v=ENs_ZXap2hM 
TOUR DATES: 
09/16 ASSOCIAÇOM CULTURAL XEBRA BURELA,SPAIN 
09/17 PUB TRANSYLVANIA VIGO,SPAIN 
09/18 ESTADIO DI RUBEIRO TRAVANCA DE BODIOSA,VISEU,PORTUGAL 
09/20 LES RUNES PUB BORDEAUX,FRANCE 
09/22 ROCK PALACE MADRID,SPAIN 
09/23 ESTUDIO 27 BURGOS,SPAIN 
09/24 HIGHLANDER METAL PUB MALAGA,SPAIN 
09/25 ANGVS ROCK CENTER CARTAGENA,SPAIN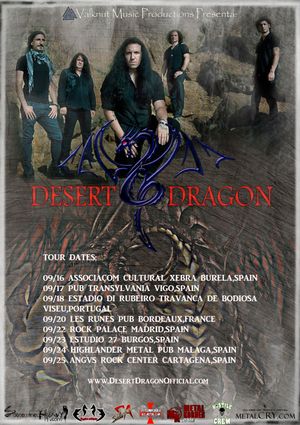 Desert Dragon is an Award-winning band from Los Angeles, California formed by guitarist Greg Patnode. The Band released their 2nd album, EP 'DESOLATION' officially on September 01, 2012 featuring Billboard charting singles "Darkness Shines" and "Miles Away" produced by the legendary Ron Nevison (Producer/Engineer for Led Zeppelin, Bad Company, The Faces, Heart, Lynyrd Skynyrd). 
      In July 2014 they signed ex-White Wizzard  singer, Joseph Michael (WITHERFALL,MIDNIGHT REIGN,EX-WHITE WIZZARD) as their new lead vocalist. In Aug 2014 the band went into the studio in Los Angeles to mix their new album with James "Jimbo" Barton (Producer/Mixer for QUEENSRŸCHE, RUSH, ERIC CLAPTON, METALLICA). The result is Desert Dragons' most polished release to date "Before The Storm". The band has shifted its focus from Blues to Hard Rock and Psychedelia. This shift has given the band a new direction and they have even revamped some songs from their first album ("Take it Easy Now", "Save My World", and "Desert Horizons" ) to give them more hard rock content. 
Find out more about Desert Dragon at http://www.DesertDragonOfficial.com