Today US dark melodic metal masters WITHERFALL have released "A Prelude to Sorrow", the highly anticipated follow-up to 2017's "Nocturnes and Requiems".   Listen to the album in its entirety HERE. 
Watch an unboxing video of "A Prelude To Sorrow" HERE.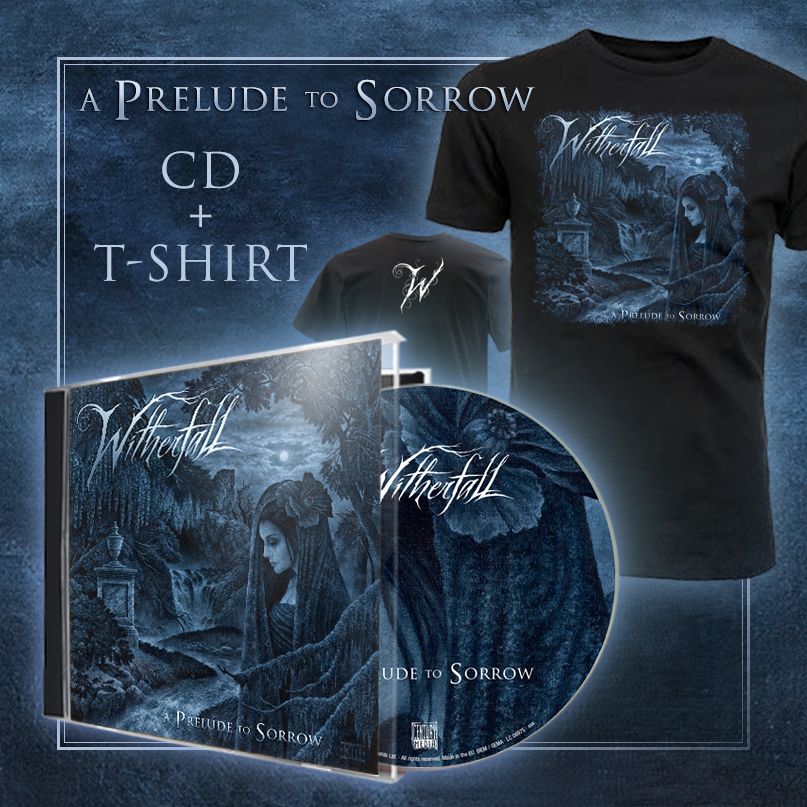 Last day Sale on this bundle!
The media reaction to the album has been nothing short of extraordinary: 
"A Prelude To Sorrow" provides the listener a cathartic release through some of the most mesmerizing music I have ever heard. The savage brilliance of this album is stunning 
-9.5/10 -Metal Wani- 
One of the most talented acts in metal; check this out and be impressed 
-Angry Metal Guy- 
The turmoil of WITHERFALL's chaotic, highly technical and dramatic performance is as impressive as ever. 
-Distorted Sound Magazine- 
-5/5 Metal Hammer.de- 
I implore you listen to 'A Prelude to Sorrow' so that you too can share in an album that is as moving as it is memorable, as emotional as it is engaging, as intelligent as it is intimate and that is as heavy lyrically as it is musically. In short, it's a sonic tour-de-force. 
- 9.8/10 Man of Much Metal- 
A Prelude To Sorrow" is one of the recordings of the year. 
-Rock Hard Greece- 
'We are Nothing' and 'Vintage' being the shining stars. Both songs are 11 minute compositions reminding of the best, progressive metal offered till today. 
-9/10 Markusheavymusicblog- 
WITHERFALL understand how to package perfectly negative emotions in such a way that a large whole emerges. Despite the blows of fate (or maybe just because of that), the band grows beyond itself. Actually, it cannot get better. 
- 9/10 Hell-fire magazine- 
8.5 / 10 Joseph Michael's powerful voice belongs to the best of the genre. 
-ROCK HARD (Ger) Soundcheck #9- 
-AARDSCHOK (NL) Soundcheck #3- 
90 / 100 A blasting album where technique and vibe fit perfectly together! 
-LORDSOFMETAL.NL- 
9 / 10 – WITHERFALL have delivered an impressive follow-up 
-BURNYOUREARS.DE- 
Magnificent! 
-9/10 Rock Tribune (B)- 
'A Prelude To Sorrow' overwhelmed me upon first listen and has enough interesting details to keep surprising me" 
-Gitarist (NL)- 
Bolstered by a clear, crisp recording, this album is an essential listen for any heavy/power/progressive metal fan. 
-Wonder Box Metal- 
On "A Prelude to Sorrow", main songwriters Joseph Michael (vocals, Sanctuary – live) and Jake Dreyer (Iced Earth) succeeded in perfectly combining the group's technical proficiency with an appropriate eerie and somber atmosphere, manifesting also in Kristian Wåhlin's majestic cover painting. "A Prelude to Sorrow" was mixed and mastered by Chris "Zeuss" Harris. (Sanctuary, Queensryche, Iced Earth) 
The album is available as a Limited Edition Digipak, jewel case CD (US only), gatefold 2LP plus poster and etching on Side D as well as digital album. 
The following limited vinyl colors are available: 
•        400x transparent blue vinyl – only available at www.witherfall.com/merch 
•        200x clear vinyl – only available at Century Media's European store http://bit.ly/WitherfallCMD 
•        CD/LP plus t-shirt bundles available here: https://merchnow.com/catalogs/witherfall 
View all "A Prelude To Sorrow" order options: https://witherfallband.lnk.to/APreludeToSorrow