WITHERFALL – Announced As Special Guest On Evergrey's "Recharging Europe Tour 2021" 
In support of their new album "Escape Of The Phoenix" via AFM Records on February 26th 2021 Swedish progressive metal band EVERGREY will be hitting the road for an extensive tour throughout Europe in 2021. 
As special guest EVERGREY invited no less than dark melodic heavy metal juggernaut from Los Angeles WITHERFALL. Bringing along their third opus "Curse Of Autumn" (to be released March 5th, 2021 via Century Media Records), the quintet are blazing new trails and weaving new tales, offering a genuine metal classic with an expressive song-writing and a refined and perfectionized sound of their distinguished and musically-adept dark melodic heavy metal. 
Opening support comes from the Modern Metal quintet DUST IN MIND, one of the most up and coming French bands today. 
EVERGREY Front-man Tom Englund states: "We are really happy to announce a tour of Europe next fall and let's all hope that the world is in a better place by that time so we get to see all you lovely people again!" 
WITHERFALL comment: "After a long and tense year WITHERFALL are extremely happy to announce the very first tour dates in support of our soon to be released Album 'Curse of Autumn' as special guests with the brilliant Evergrey. We look forward to seeing all of our European friends and are excited to make some new ones in these new and uncharted waters."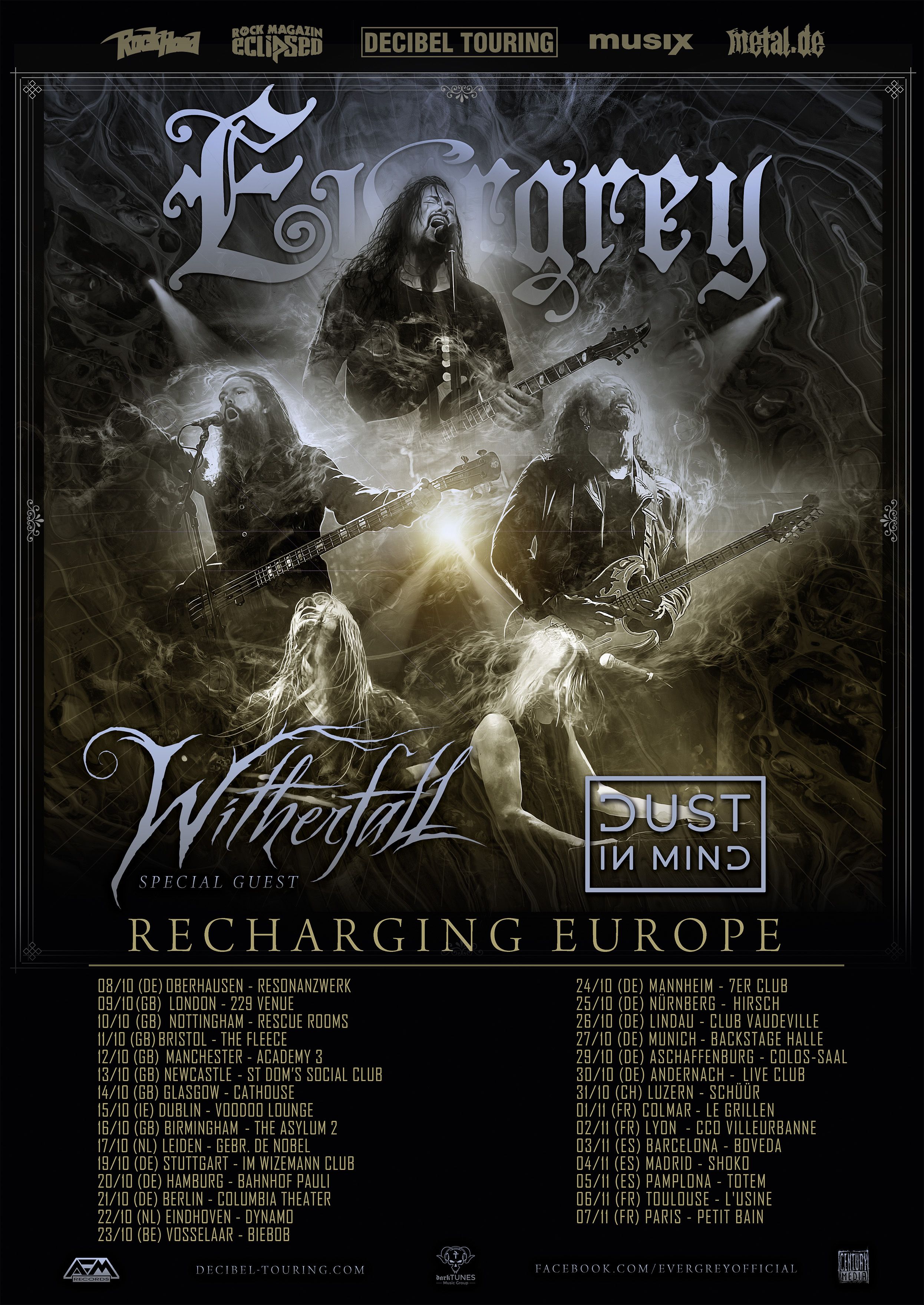 Rock Hard, Eclipsed, MusiX and metal.de present: 
Recharging Europe Tour 2021 
EVERGREY 
+ special guest: WITHERFALL 
+ DUST IN MIND 
08.10.21 (DE) Oberhausen - Resonanzwerk 
09.10.21 (GB) London - 229 venue 
10.10.21 (GB) Nottingham - Rescue Rooms 
11.10.21 (GB) Bristol - The Fleece 
12.10.21 (GB) Manchester - Academy 3 
13.10.21 (GB) Newcastle - St Dom's Social Club 
14.10.21 (GB) Glasgow - Cathouse 
15.10.21 (IE) Dublin - Voodoo Lounge 
16.10.21 (GB) Birmingham - The Asylum 2 
17.10.21 (NL) Leiden - Gebr. De Nobel 
19.10.21 (DE) Stuttgart - Im Wizemann Club 
20.10.21 (DE) Hamburg - Bahnhof Pauli 
21.10.21 (DE) Berlin - Columbia Theater 
22.10.21 (NL) Eindhoven - Dynamo 
23.10.21 (BE) Vosselaar - Biebob 
24.10.21 (DE) Mannheim - 7er Club 
25.10.21 (DE) Nürnberg - Hirsch 
26.10.21 (DE) Lindau - Club Vaudeville 
27.10.21 (DE) Munich - Backstage Halle 
29.10.21 (DE) Aschaffenburg - Colos-Saal 
30.10.21 (DE) Andernach - Live Club 
31.10.21 (CH) Luzern - Schüür 
01.11.21 (FR) Colmar - Le Grillen 
02.11.21 (FR) Lyon - CCO Villeurbanne 
03.11.21 (ES) Barcelona - Boveda 
04.11.21 (ES) Madrid - Shoko 
05.11.21 (ES) Pamplona - Totem 
06.11.21 (FR) Toulouse - L'Usine 
07.11.21 (FR) Paris - Petit Bain 
WITHERFALL have already released 3 songs taken from "Curse Of Autumn". Don't miss the cinematic video for "As I Lie Awake" that was directed by Zev Deans (Ghost, Behemoth…): https://youtu.be/KFbrq-n17Gs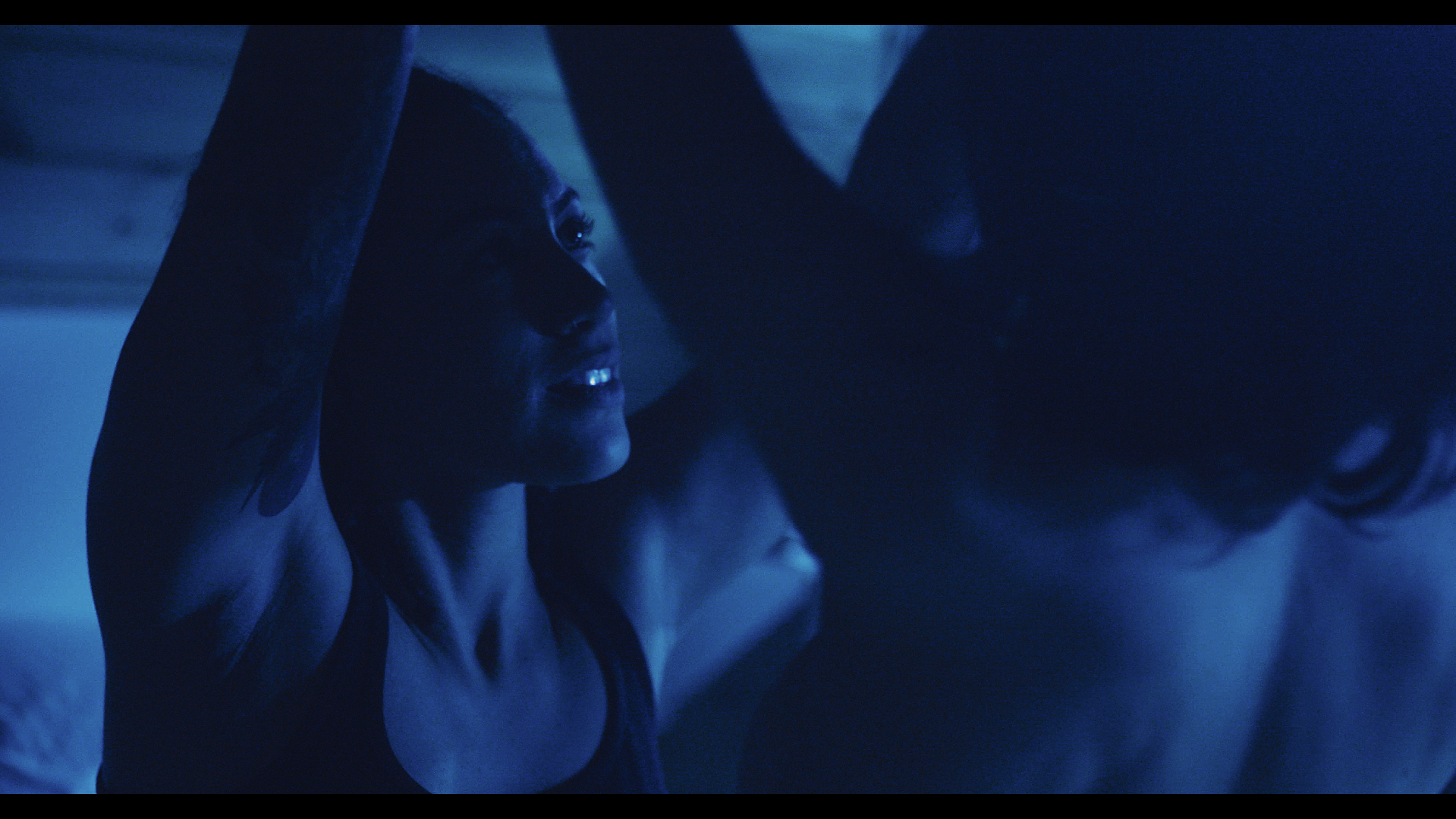 Make sure to check out as well: 
"Another Face (Lyric Video)": https://youtu.be/jUDgiOskP0g 
"The Last Scar (Visualizer Video)": https://youtu.be/qybjieZibRU 
"Curse Of Autumn" will be available as Ltd. CD Digipak, a luxurious Gatefold 2LP that is coming with a poster and etching on Side D as well as Digital Album. Click here for preorder options including coloured vinyl: https://witherfallband.lnk.to/CurseOfAutumn/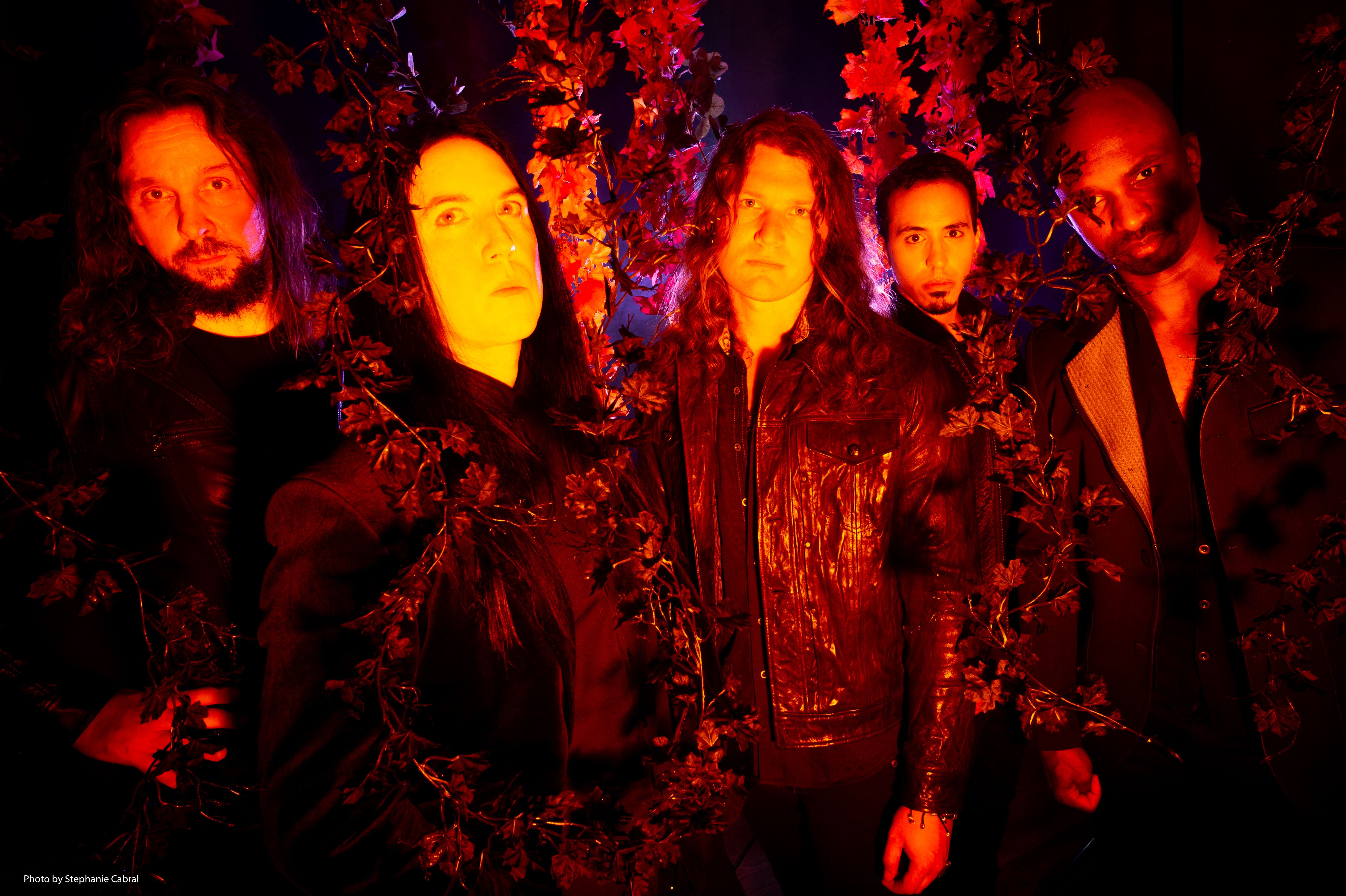 (photo by Stephanie Cabral) 
WITHERFALL are: 
Joseph Michael - Vocals/Keyboards (also in Sanctuary) 
Jake Dreyer - Acoustic and Electric Guitars (also in Iced Earth/Demons & Wizards) 
Anthony Crawford - Bass (Chon, Shalmor, Allan Holdsworth, Justin Timberlake, Kirk Whalum…) 
Marco Minnemann - Drums (The Aristocrats, Joe Satriani, Steven Wilson, Tony Levin, Jordan Rudess, Necrophagist…) 
Alex Nasla - Live Keyboards 
Follow WITHERFALL: 
https://www.facebook.com/witherfall 
https://www.instagram.com/witherfallofficial/ 
https://twitter.com/witherfall 
https://www.youtube.com/witherfall 
Click Here to buy merch/cds/vinyl etc