SANCTUARY Tribute Upcoming Shows as Farewell to Warrel Dane; Announce Guest Vocalist Joseph Michael of (Witherfall) 
Following the unfortunate loss of one of metal's most revered vocalists, WARREL DANE (Sanctuary, Nevermore), prior to SANCTUARY's upcoming dates supporting Iced Earth across North America, the band has announced the tour will go forth as planned. The shows will act as a farewell tour in tribute to the life and memory of DANE with guest vocals for SANCTUARY to be performed by Joseph Michael (Witherfall). 
Sanctuary guitarist Lenny Rutledge comments: 
"Sanctuary has decided to continue on with the Iced Earth tour to pay tribute to our brother Warrel Dane. We have enlisted the help of our friend Joseph Michael from Witherfall. The set will consist of many old and some newer songs performed with the utmost respect and quality to honor our friend. Please join us in this farewell as we celebrate Warrel's musical legacy with Sanctuary. We look forward to sharing this tribute with all of you." 
Joseph Michael (Witherfall)
"Ok guys, i have been really quiet about this and for good reason:but Sanctuary has bestowed upon me the honor of singing with them on a farewell tribute to the inimitable Warrel Dane (RIP). I hope to see you out there to share in this celebration of a true original and sing along to some great songs."
A full list of dates can be found as follows: 
2/22 Indianapolis, IN - Deluxe # 
2/23 CIncinnati, OH - Bogarts # 
2/24 Louisville, KY - Mercury Ballroom # 
2/25 Milwaukee, WI - Turner Ballroom # 
2/26 Minneapolis, MN - Music Hall # 
2/27 Omaha, NE - Sokol Underground # 
2/28 Denver, CO - Summit Music Hall # 
3/2 Edmonton, AB - Starlite Room # 
3/3 Calgary, AB - Marquee Beer Market & Stage # 
3/4 Vancouver, BC - Rickshaw Theater # 
3/5 Seattle, WA - El Corazon # 
3/7 Sacramento, CA - Ace of Spades # 
3/8 Los Angeles, CA - Belasco Theater # 
3/9 San Diego, CA - House of Blues # 
3/10 Anaheim, CA - Parish @ House of Blues # 
3/11 Phoenix, AZ - The Pressroom # 
3/13 San Antonio, TX - Aztec Theatre # 
3/14 Dallas, TX - House of Blues # 
3/15 Houston, TX - House of Blues # 
3/16 New Orleans, LA - Parish @ House of Blues # 
3/17 Atlanta, GA - The Masquerade # 
3/18 Charlotte, NC - Underground # 
3/19 Baltimore, MD - Baltimore Soundstage # 
3/21 Wilmington, DE - The Queen # 
3/22 New York, NY - Gramercy Theatre # 
3/23 Boston, MA - Brighton Music Hall # 
3/24 Quebec City, QC - Imperial Bell # 
3/25 Montreal, QC - Corona Theater # 
3/26 Toronto, ON - Phoenix Theater # 
3/27 Cleveland, OH - Cambridge Room @ House of Blues # 
3/28 Detroit, MI - St. Andrew's Hall # 
3/29 Chicago, IL - Bottom Lounge # 
# with Iced Earth & Kill Ritual 
Tickets and further details can be found at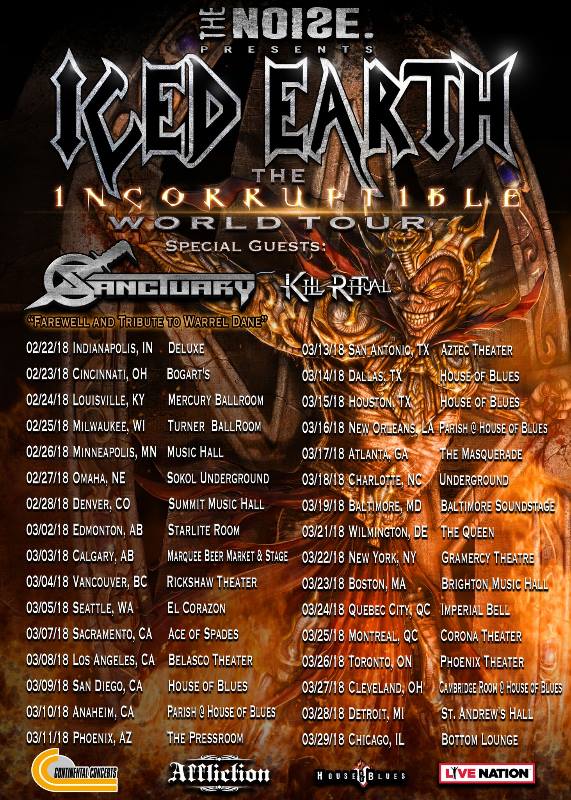 SANCTUARY recently released the official prequel to 1988's classic debut "Refuge Denied", "Inception", which showcased several previously lost recordings from their 1986 studio session that have now been restored, remixed and remastered by Chris "Zeus" Harris (Queensryche). 
Formed in 1985, the band were signed to Epic Records with the help of Megadeth guitarist Dave Mustaine and released two records, "Refuge Denied" (1988) and "Into The Mirror Black" (1989) which saw them perform with the likes of Megadeth, Fates Warning, Warlock and Death Angel. The band disbanded in 1992 as members Warrel Dane (vocals) and Jim Sheppard (bass) went on to form the highly successful metal act Nevermore with acclaimed guitarist Jeff Loomis. SANCTUARY reunited nearly 25 years later in 2010 and appeared at several festivals worldwide before returning to the studio to record their acclaimed full-length comeback album "The Year The Sun Died" for Century Media Records in 2014. 
Warrel Dane tragically passed away on December 13, 2017 due to a heart attack while recording his second solo album in São Paulo, Brazil.